Crystalline Silica Monitoring
Industrial and construction workplaces are filled with occupational hazards of all types and forms.  Amongst these is respirable crystalline silica (RCS), which is a common airborne hazard in construction, manufacturing (concrete brick and tile), tunnelling and abrasive blasting industries, along with mining operations.
The health effects of RCS include silicosis, lung cancer, emphysema and chronic bronchitis.  These diseases primarily have long latency periods following initial exposure.  These health effects are often as a result of the extremely small particle size of the RCS and its associated ability to penetrate the lower parts of the lung.  In addition, high impact speeds of blast media, concrete and stone impacting equipment (concrete cutters) and similar, have resulted in increased levels of RCS in modern workplaces.
If your workplace potentially has hazards associated with crystalline silica, measures must be put in place to ensure potential exposure is risk assessed, monitored and control measures put in place to minimise exposure.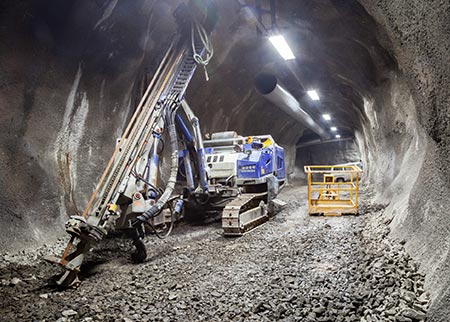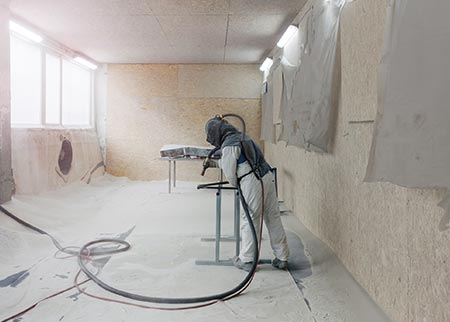 Envirohealth Consulting occupational hygienists can assist in all stages of the identification and assessment of occupational crystalline silica.  This includes the following critical steps, as required by legislation:
Identification. This aspect comes under the legislation requirement for all workplaces to identify hazardous substances.  The identification of crystalline silica initially is made by examination and assessment of safety data sheets (particularly in the instances of abrasive blasting, metal polishing and manufacturing).  In the instance of tunnelling, mining, and similar processes, it is required that additional data sources be consulted to determine the potential for the generation of RCS.
Managing the Risk. Based on the identification process and assessment of the safety data sheets, an examination of work processes is carried out, usually with full consultation with the staff involved in the processes.  This consultation and assessment will provide an indication of staff likely to be exposed to RCS, and will assist in managing the risks.  In order to manage the risks involved with RCS, it is essential to obtain an accurate measure of the workers exposure.  The WHS regulations present in Queensland (Section 50) require that where no certainty of exposures exists,  airborne RCS monitoring must be undertaken to obtain an accurate measure of staff exposure and workplace airborne RCS levels.
Air Monitoring. Air monitoring is an essential component in the evaluation of worker exposure to a complete range of airborne workplace hazards, and RCS is no exception.  The air monitoring can assist in determining worker exposure, along with control measure effectiveness including effectiveness of engineering controls (ventilation).  The monitoring can also determine the distribution of airborne contaminant clouds, and obtain accurate airborne contaminant profiles within a workplace.  This data is essential in the development of control measures and designation of personal protective equipment.  Envirohealth Consulting's laboratory has all the equipment necessary to undertake extensive air monitoring programs in large workplaces and large industrial sites.  We have vast experience in developing air monitoring programs to ensure clients obtain information that is accurate and can be effectively used in developing control measures and ensure that staff exposures are kept well below legislated exposure standards.  In addition to the on-site component of the air monitoring, Envirohealth Consulting have working arrangements with consulting laboratories to undertake analytical testing of the collected samples, in the shortest possible turnaround time.
Selecting the Means for Controlling the Risk. Upon completion of the air monitoring, it is required that, where airborne levels are detected above an action level (or risk level), control measures be put in place to minimise and/or control the risks.  Envirohealth Consulting recommend following the hierarchy of controls where elimination of silica in processes is not possible.  The hierarchy of controls includes (in this order): Elimination; Substitution; Engineering controls; Administrative controls and finally, personal protective equipment.  Envirohealth Consulting can assist in addressing all of the steps in the hierarchy of controls.  We have working relationships with specialist mechanical ventilation engineering firms, process engineering firms and association professionals to ensure our clients obtain the most cost effective solution to any potential exposure issues detected during monitoring and assessment programs.  We also have an intimate knowledge of respiratory protection usage, effectiveness and legislation.  All of this can give clients assurance that when an assessment is carried out, that Envirohealth Consulting will ensure cost effective and workable solutions are provided and seen through to completion.
Health Monitoring. Under applicable legislation, it is a requirement that worker health monitoring be conducted if there exists a significant risk to worker health as a result of exposure to hazardous chemicals.  Based on the findings of the above steps, Envirohealth Consulting can advise clients as to their obligations under the applicable legislation.  We also have a range of occupational practitioners we work closely with to ensure clients get the right advice and comply with health monitoring requirements.  Our associated occupational practitioners also ensure workers' health is the number one priority.  We can also work closely with client appointed medical practitioners if required.
Record Keeping. In cases of RCS exposure, with the associated onset of disease latency periods, it is required that all records relating to health monitoring and airborne assessments be maintained for a period of 30 years.  Envirohealth Consulting has been in operation for over 25 years and still hold records relating to our first projects.  Clients can be assured that all records are kept in archive for the required time period.
Induction, Information, Training and Supervision. As with all workplace hazards and risks, employers are required under legislation to provide induction and training in relation to the hazards.  This information shall include information relating to health risks, occupational processes likely to generate hazards, control mechanism, correct use of personal protective equipment, air monitoring results and health monitoring information.
Get In Touch With Us
To request more info or ask a specific question, please contact us and we will get back to you as soon as possible.



HEAD OFFICE: Unit 7/210 Queensport Rd North, Murarrie QLD 4172
PHONE: (07) 3390 5344 | FAX: (07) 3390 6244 | EMAIL: info@envirohealth.com.au
TOWNSVILLE OFFICE: Unit 4, 42 Ross River Road, Mundingburra Qld 4812
PHONE: (07) 4755 0054 | FAX: (07) 4725 7160