Lead in the Home and Work Environment
Home Environment
Most people are aware about asbestos but do you realise just how much of a risk lead paint can be and just how common it can be in older homes in Australia?
Lead is a soft metal that was used as an additive across a wide range of applications including house paints, marine paints, fuels and solders.  Lead is a toxic substance that can be harmful to people of any age but is particularly harmful to children, pregnant women and unborn babies.  Lead accumulates in the human body and is stored in bones and teeth.  Young children are highly at risk as they can absorb more lead from both the gut and airways than adults as they frequently put their hands and items in their mouths and their developing bodies are more sensitive to the effects of lead.  Exposure to lead is also harmful to unborn babies and pregnant women because lead passes through the placenta and can cause serious complications.  Lead poisoning can be both acute (high level in a short exposure) or chronic (long term or ongoing) and symptoms can include muscle pains, fatigue, abdominal pains, headache, lack of energy, loss of appetite, anaemia, increased blood pressure and heart rate variability.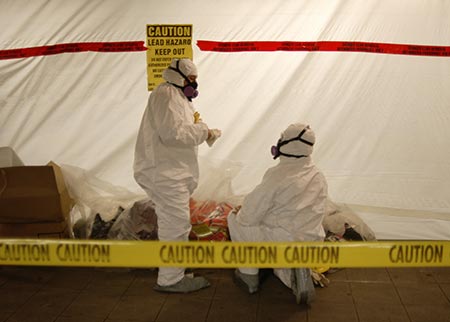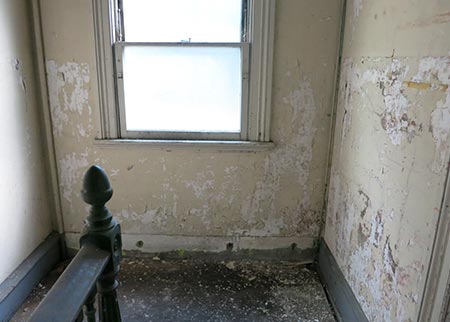 The older your house is the more likely it will be to contain lead paint.  The levels of lead used in paint varies dependent on when the paint was manufactured. Generally if the paint was pre 1970 the levels may be as high as 50%, if the paint is 1970-1992 the levels will be in around 1% which is still a significant level of lead. Paints after 1992 will most likely have lower levels of lead.  Lead paint is an issue for anyone in the position of renovating or maintaining a home built before 1997.
Lead in house paint becomes an issue if it is damaged or disturbed.  Lead based paint can be found on any interior or exterior painted surface.  An indicator of damaged paint is when the paint is chalky or flaking.  Home renovators can create a lead hazard without being aware of it.  If lead based paint is not handled properly, lead dust and paint chips can remain in the home and garden for years after the renovation is finished.
Lead can also be found in marine paints as many boats have been previously painted with a paint that is high in lead. In particular the safety colours of red, yellow and orange can contain high levels of lead. White lead paints are also common.  Red lead was used on a wide range of hull and above water line materials including timber and steel.  Paint containing lead that is scraped or hosed off marine vessels at marinas and commercial slipways can enter waterways and pose a threat to water quality.
Lead can also be found in the ceiling void of your house as well as in the wall cavities and under floor areas.  This lead can build up over many years from a range of sources including leaded fuel emissions, renovations from your house or neighbouring properties, fumes from wood and coal burning as well as industrial pollution dependent on the location.  The dust in the ceiling void could potentially pose a risk if the ceilings, cornices and ceiling roses are not in a good state of repair.
Lead lights (stained glass) can also be a source of lead contamination in an older dwelling. The lead is present in the solder used to put the various glass panels together.  This lead can be released as a dust if the old frames are disturbed and in addition the plaster and fillings around the glass may also have absorbed lead over time.
Envirohealth Consulting can provide you with the correct advice, undertake paint sampling and provide remediation strategies to deal safely with lead based paint, lead lighting and lead dust in and around your home.
So before renovating, sanding or painting contact Envirohealth Consulting and have a talk with our experienced staff.
Workplace Lead
Industrial and construction workplaces are filled with occupational hazards of all types and forms.  Amongst these is lead, which has the potential to be an airborne hazard in mining, manufacturing (metal, batteries, cement, plaster and concrete), petroleum and coal products, motor vehicles and automotive paints.
The health effects of lead ingestion include muscle pains, fatigue, abdominal pains, headache, nausea and vomiting, seizures, coma, appetite loss, learning disabilities, behavioural problems, impaired growth, anaemia, increased blood pressure, heart rate variability and fertility issues. As lead is stored in the bones and teeth and can build up over time these health effects may manifest after exposure or as a result of ongoing exposure to lead.
If your workplace potentially has hazards associated with lead, measures must be put in place to ensure potential exposure is risk assessed, monitored and control measures put in place to minimise exposure.
Envirohealth Consulting occupational hygienists can assist in all stages of the identification and assessment of occupational lead exposure.  This includes the following critical steps, as required by legislation:
Identification. This aspects comes under the legislation requirement for all workplaces to identify hazardous substances.  The identification of lead initially is made by examination and assessment of safety data sheets (particularly in the instances of paints). In the absence of safety data sheets, material sampling and analysis for the presence of lead may be required.
Managing the Risk. Based on the identification process and assessment of the safety data sheets, an examination of work processes is carried out, usually with full consultation with the staff involved in the processes.  This consultation and assessment will provide an indication of staff likely to be exposed to lead, and will assist in managing the risks.  In order to manage the risks involved with lead, it is essential to  determine both if the works can be classified as a lead process and if the works are a Lead Risk work (work in a lead process that is likely to cause a worker's blood lead levels to exceed recommended standards).  It is therefore critical to obtain an accurate measure of the worker's exposure.  The WHS regulations present in Queensland (Part 7.2 Lead) requires that where no certainty of exposures exists, a combination of airborne lead sampling and blood testing must be undertaken to obtain an accurate measure of staff exposure and workplace airborne Lead levels.
Air and Surface Monitoring. Air monitoring is an essential component in the evaluation of worker exposure to a complete range of airborne workplace hazards, and lead is no exception.  The air monitoring can assist in determining worker exposure, along with control measure effectiveness including effectiveness of engineering controls (ventilation).  The monitoring can also determine the distribution of airborne contaminant clouds, and obtain accurate airborne contaminant profiles within a workplace.  Surfaces sampling is also an important component in the evaluation of a worker's exposure to lead, as lead is an ingestible hazard as well as an airborne one.  This data is essential in the development of control measures and designation of personal protective equipment.  Envirohealth Consulting's laboratory has all the equipment necessary to undertake extensive air and surface monitoring programs in large workplaces and large industrial sites.  We have vast experience in developing air monitoring programs to ensure clients obtain information that is accurate and can be effectively used in developing control measures and ensure that staff exposures are kept well below legislated exposure standards.  In addition to the on-site component of the air and surface monitoring, Envirohealth Consulting have working arrangements with consulting laboratories to undertake analytical testing of the collected samples, in the shortest possible turnaround time.
Selecting the Means for Controlling the Risk. Upon completion of the air monitoring, it is required that, where airborne or surface levels are detected above an action level (or risk level), control measures be put in place to minimise and/or control the risks.  Envirohealth Consulting recommend following the hierarchy of controls where elimination of lead in processes is not possible.  The hierarchy of controls includes (in this order): Elimination; Substitution; Engineering controls; Administrative controls and finally, personal protective equipment.  Envirohealth Consulting can assist in addressing all of the steps in the hierarchy of controls.  We have working relationships with specialist mechanical ventilation engineering firms, process engineering firms and association professionals to ensure our clients obtain the most cost effective solution to any potential exposure issues detected during monitoring and assessment programs.  We also have an intimate knowledge of respiratory protection usage, effectiveness and legislation.  All of this can give clients assurance that, when an assessment is carried out, Envirohealth Consulting will ensure cost effective and workable solutions are provided and seen through to completion.
Health Monitoring. Under applicable legislation, it is a requirement that worker health monitoring be conducted if there exists a significant risk to worker health as a result of exposure to hazardous chemicals.  Based on the findings of the above steps, Envirohealth Consulting can advise clients as to their obligations under the applicable legislation.  We also have a range of occupational practitioners we work closely with to ensure clients get the right advice and comply with health monitoring requirements.  Our associated occupational practitioners also ensure workers' health is the number one priority.  We can also work closely with client appointed medical practitioners if required.
Record Keeping. In cases of lead exposure, with the associated onset of disease latency periods, it is required that all records relating to health monitoring and airborne assessments be maintained for a period of at least 30 years.  Envirohealth Consulting has been in operation for over 25 years and still hold records relating to our first projects.  Clients can be assured that all records are kept in archive for the required time period.
Induction, Information, Training and Supervision. As with all workplace hazards and risks, employers are required under legislation to provide inductions and training in relation to the hazards.  This information shall include information relating to health risks, occupational processes likely to generate hazards, control mechanism, correct use of personal protective equipment, air monitoring results and health monitoring information.
Get In Touch With Us
To request more info or ask a specific question, please contact us and we will get back to you as soon as possible.



HEAD OFFICE: Unit 7/210 Queensport Rd North, Murarrie QLD 4172
PHONE: (07) 3390 5344 | FAX: (07) 3390 6244 | EMAIL: info@envirohealth.com.au
TOWNSVILLE OFFICE: Unit 4, 42 Ross River Road, Mundingburra Qld 4812
PHONE: (07) 4755 0054 | FAX: (07) 4725 7160